Dog People
Oliver Hawk Holden
Reception – Friday, Dec 10 6-9pm
Dec 10 – Jan 23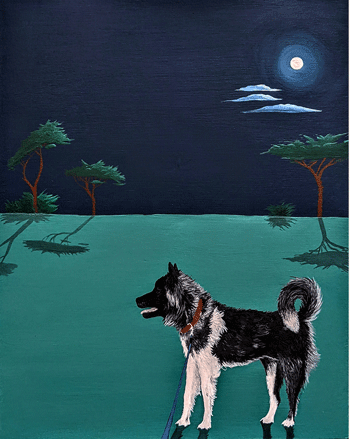 Artist Statement
In  2016 the American Community Survey estimated there were about 115,000 children under 18 living in the city.  San Francisco Animal Care and Control estimated there were about 120,000 to 150,000 dogs living in the city. We have all come upon owners that constantly helicopter over their precious pets, take endless photos, cover their feet in little boots, scold, make perform and show over the top public displays of affections. Holden always kind of looked with a puzzled disdain at these Dog People.
23 million American households acquired a pet during the COVID-19 crisis. Dog People is Holden's latest work in response to his own adoption of Yuki a.k.a. Goose, an American Long Haired Akita. He confronts his own love and newfound obsession with his beloved pet, also investigating how dogs help our struggles and heal us during these challenging times.
The window installation will include kinetic sculptures and busts that create a sense of how completely unpredictable, comical, and frustrating life with a dog can be. Inside the gallery, Holden will show figurative low relief works that tell time.
About the Artist 
Oliver Hawk Holden is a San Francisco-based artist whose work takes a satirical, yet deeply intimate look at the world and pulls mostly figurative imagery of distinct moments into semi autobiographical collage. His practice includes kinetic sculpture, painting and installation.  
His work has been featured in Juxtapoz and he has exhibited at Evergold gallery, Incline Gallery, R/SF Gallery and FaceBook AIR Mural Residency San Francisco. Holden has been nominated twice for the SECA award in 2019 & 2021.
Alongside his art practice, Holden is a co-founder of Expert Art Service @expertartservice , a fine art services company that provides art installation and general art handling services to the Bay area. He holds a degree in sculpture from the San Francisco Art Institute (BFA), where he studied under John Defazio, Alicia McCarthy, Terry powers, and Jeremy Morgan.
Artist Links
https://www.oliverhawkholden.com/
@oliverhawk