HNL-SFO Castaways
Maureen Debreé, Ethan Estess and Mark Cunningham.
ReceptionOctober 15th 6-9pm
October 12th – November 14th 2022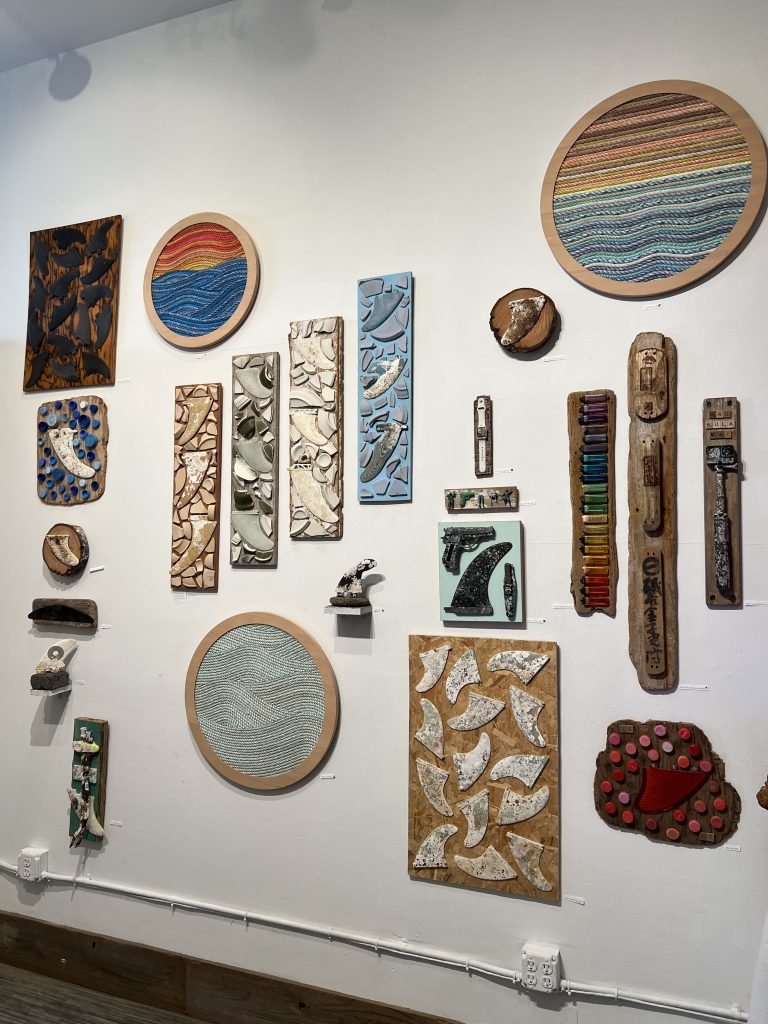 The Great Highway gallery is excited to present HNL-SFO/Castaways, Installation, rope panels and assemblage from Maureen Debreé, Ethan Estess and Mark Cunningham. Sponsored by Head High wines. A portion of the proceeds from the exhibit will be donated to the San Francisco Surfrider Foundation – sf.surfrider.org/.
What does it mean to make a living off of the sea? Many will conjure an image of a salty old fisherman hauling a net full of fish, however, artists Mark Cunningham and Ethan Estess have redefined this traditional notion with their unique life paths. After a storied career lifeguarding in Hawaii, Mark began beachcombing and snorkeling to collect lost objects from what he's dubbed the "Shorepound Lost and Found". Surfboard fins, wrist watches, hotel room cards – the material is endless and so is Mark's creativity for assembling objects that juxtapose the beauty of natural coralline algae growth with forgotten plastic forms.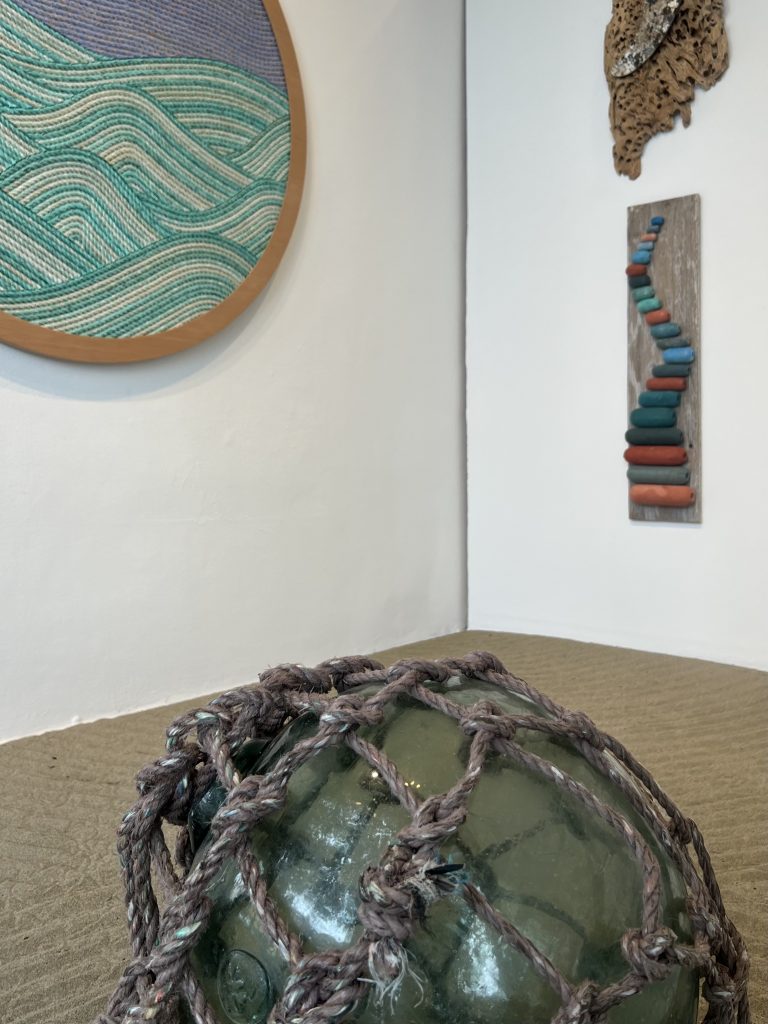 Ethan jokes that Mark is the only person he knows who "likes" marine debris as much as he does. Estess left his career as a marine biologist studying tuna and shark ecology with the Monterey Bay Aquarium to focus on using reclaimed fishing rope and other materials to create sculptural works that tell stories about the ocean. He made this series of artworks predominately from fishing rope collected off the beaches of Oahu by a local nonprofit called Sustainable Coastlines Hawaii. Having become good friends through their love of surfing and mutual support of the Kokua Hawaii Foundation, Surfrider Foundation, HNL-SFO/Castaways highlights Cunningham and Estess' simpatico styles, and their shared commitment to protecting ocean life. If their works could be collectively summarized, they both elevate mundane, environmentally harmful material into artworks that are worthy to bring into one's home as daily reminders that our consumer choices have impacts on the sea.
About Ethan Estess
Ethan Estess (b. 1989) is an artist and marine scientist who communicates about the challenges facing the ocean through sculpture and printmaking. He travelled extensively during his career as a marine biologist and now draws on these experiences to inspire his creative works. He holds M.S. and B.S. degrees in environmental science from Stanford University where he studied oceanography, mechanical engineering, and studio art. Estess has participated in several art residencies, including the Recology program at the San Francisco landfill where he constructed a life-size whale tail sculpture from reclaimed rope that was later displayed for millions of viewers at the
San Francisco international airport. His artworks are currently exhibited in North America, Europe, and Japan, and he has created installations for the Bishop and J. Paul Getty Museums. In recent years, Estess has collaborated with several nonprofit groups to build multiple monumental wave sculptures from ocean trash that have reached millions of viewers with a message of ocean stewardship.
About Mark Cunningham
Made in Hawaii, born in Massachusetts, Mark Cunningham has been in love with the ocean and surf for over 60 years. A retired City & County of Honolulu Lifeguard he still spends a great deal of his time on the beach and in the water. As much as Mark loves to ride waves he's just as intrigued with what lies beneath them. When the conditions allow, he dons mask, fins and snorkel and makes the most out of exploring and scavenging reefs and impact zones for exercise and treasure. Beachcombing between Mkapuu and Kahuku on Oahu's Winward shoreline, has proivided most of the wood for the pieces.
You may be looking around and wondering… "treasure"? Yes, everyman's treasure will be defined in a different and unique manner and for Mark, these pieces represent a life, a story and an adventure: the remains of a wipeout, a tale floated from miles away, the shiny and the new becoming corroded and encrusted, and the inevitable passage of time.
Artist Links
ethanestess.com
@estess.art.science
@kkandmc