Rite of Spring
Kirk Maxon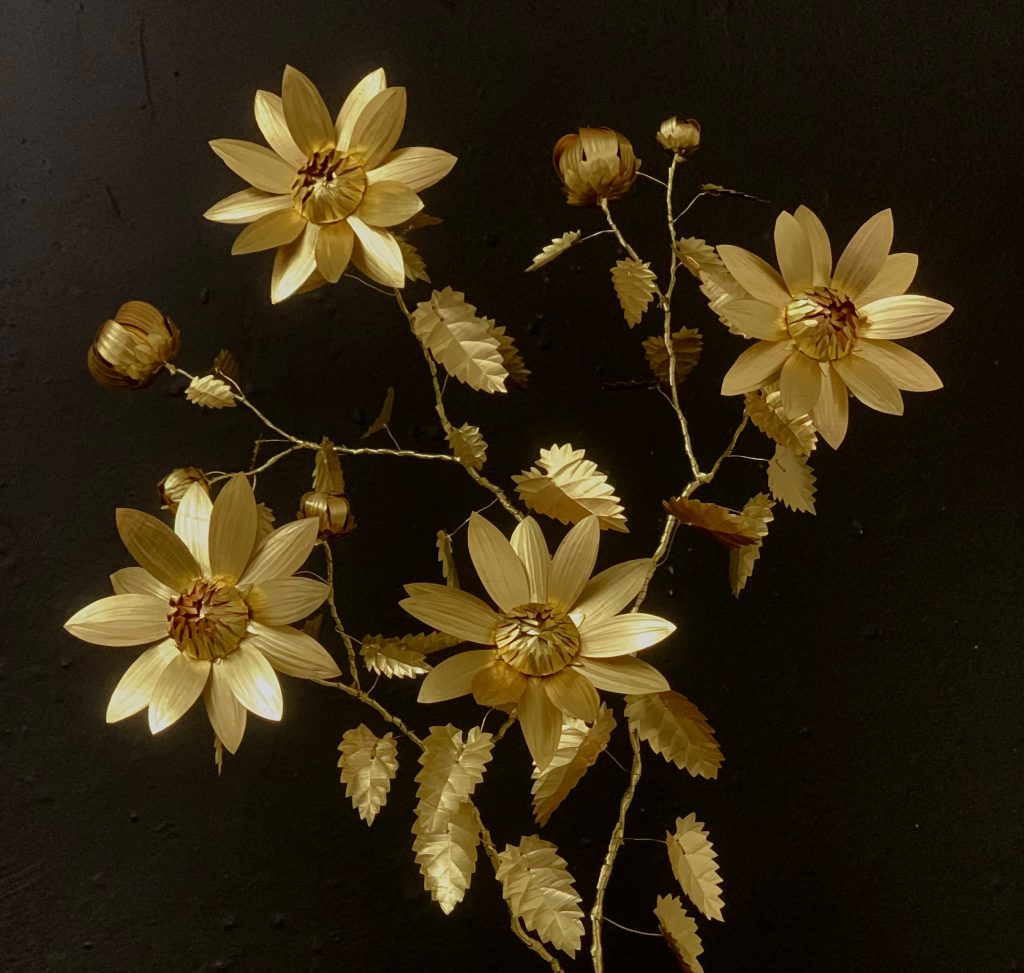 April 8th – May 23rd
The Great Highway Gallery is excited to present Rite of Spring a window installation by San Francisco artist Kirk Maxon.
Kirk Maxon's work reflects his appreciation for the magic inherent in nature. This understanding was fostered by family walks and mushroom foraging with his mother growing up in Oregon. Kirk continues to forage for his botanical muses that he then turns into perfectly detailed metal sculptures. Living in San Francisco his recent work is influenced by urban plants that often go unnoticed or unappreciated. They represent a City of survivors.
Kirk manipulates metal in the same way you might see done with paper. His specimens are photographed, photocopied then cut into patterns that he uses to meticulously cut his metal herbarium installations.
Exhibition Statement
In 1913 Igor Stravinsky wrote Rite of Spring when it was premiered in Paris, the avant-garde nature of the music and choreography and possibly the anti Russian sentiment caused a sensation. Many have called the first-night reaction a "riot". In the 1980's a Heavy Metal band named Rite of Spring was a mainstay of the D.C. Punk Scene. They where considered the first emo band but they rejected any association with emo genres. In 2011 A horror movie named Rite of Spring was released to a plethora of bad reviews with a plot revolving around kidnappings and monsters. In 2021 a group protesting the loss of Donald Trump rioted inside the capital building.
A paganistic installation of brass prickly wildflower bushes will fill the window, referencing the protest and real horrors of these recent times.
About the Artist
Kirk Maxson moved to San Francisco in 1992, and lived in the Mission and participated in the San Francisco Mission School art scene. He exhibited artwork in the seminal exhibition spaces of Adobe books, Scene/Asena, and ESP during the height of the Mission School. Subsequently he has created multiple permanent site-specific installation for corporate collections including ClimateWorks Foundation, San Francisco, CA, Kilroy Realty Corporation, Bellevue, WA, UBM, San Francisco, CA, Genentech Inc., South San Francisco, CA, Morgan Stanley Corporate Collection, The University of Texas Southwestern Medical Center Collection, Avant Corporate Collection, Menlo Park, CA and Fresh Connection Corporation, Lafayette, CA.
He has also created numerous installations for private residences. He has previously worked with Eleanor Harwood Gallery, San Francisco, Eli Ridgeway Gallery and the Gensler Architecture firm in San Francisco.
Kirk is also a part of the Ocean Beach community. His expansive sand drip castles are an impermanent gift to those who stumble upon them or lucky enough to see him at work.