Tales from Topographic Oceans

Ned Evans & Chris Wilder
TALES FROM TOPOGRAPHIC OCEANS
March 18 – April 23
Opening reception Saturday, March 19 from 6 to 9 pm
The Great Highway gallery is pleased to announce the exhibition, Tales from Topographic Oceans, on view from March 18th – April 23rd. The exhibition will feature the paintings of Ned Evans and paintings, prints and a video from Chris Wilder. The exhibition is being curated by B.V.B. Art Productions. Rogue footage of the recently lauded documentary, "Great Highway," a film, about the history and legends of surfing in San Francisco will be exhibited by Mark Gunson, its creator.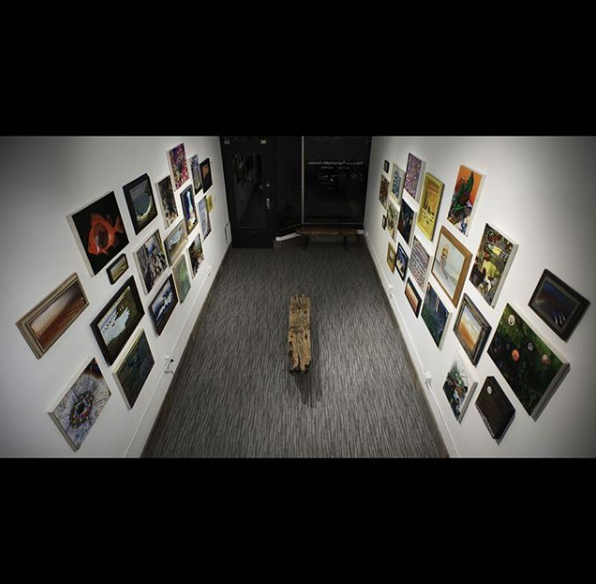 About Chris Wilder
Chris Wilder will not be tamed! Chris is an independent American visual artist who was born in Long Beach, CA in 1957 and raised surfing on the beaches of Huntington Beach, CA. He is also a senior lecturer at Otis College of Art and Design in Los Angeles. He lives and works out of his studio in Santa Monica, CA creating a prolific body of work; paintings, sculptures, installations and print work. His field of inquiry ranges from thickly layered depictions of oceanic and tropical representations and deploys a wide range of media, including ambiguous encounters of an otherworldly kind. Like colleague Mike Kelley, Wilder was involved in the Los Angeles punk music scene in the late 1970s at the same time was making pieces like his UFO Sighting series.
Chris Wilder Bio/CV
Instagram: @upsetter1
About Ned Evans
Ned Evans is the quintessential Southern California poster child; now evolved into the ultimate surfing art cowboy. Having grown up in the San Fernando Valley in the 50s and 60s; moving to Laguna Beach at the ripe age of 17 and now a resident of Venice, CA for the last 40 years. Ned has steadily, and expertly held his west coast ground producing artwork that is revered and collected around the world. He is represented by Craig Krull Gallery in Santa Monica and Andrea Schwartz Gallery in San Francisco, CA.
Ned Evans website
Instagram: @nedevans
Curator Statement
What a privilege and honor it is curating and exhibiting again after 15 years. Ned Evans and Chris Wilder, two legendary West Los Angeles art stars are surfing gentlemen who have exhibited all over the world. Chris Wilder is offering an eclectic mix of painted mental fabrications, paint on a war club stamped into your brain paintings, and a short tag along topographic film loop. Ned Evans is exhibiting a group of off-center gold nugget hyperbolically rich paintings that are a kind of love song to the saddened state of our oceans. His ever-expanding body of work is astounding. The artists have collaborated on a print that will be editioned by the gallery. – Robert Carrillo
About the Gallery
The Great Highway is a fine art gallery located in San Francisco's Outer Sunset district. The gallery was founded by John Lindsey, a long time resident of the city with a deep appreciation for images and ideas that explore the intersection of land and water in contemporary work. The Great Highway Gallery's mission is to seek, analyze, support, and promote the work of a diverse group of artists who seek sincere authenticity, challenge conventional thinking, amuse us, and push the boundaries of today's creative media. To learn more about the gallery, visit www.thegreathighway.com.