The Morning After
February 23rd – March 25th Reception Saturday, February 25 – 6-9pm
The Great Highway Gallery is pleased to present The Morning After, a group exhibition curated by Leo Bersamina. Paintings, photography and ceramics from John Bucklin, Rebecca Latourette Connolly, Amy WIlson Faville, Jane Fisher, Terry Hoff, Karl McDade, Jessica Snow, Travis Somerville, Judy Starbuck Sorro, Marie Van Elder and Nicole White.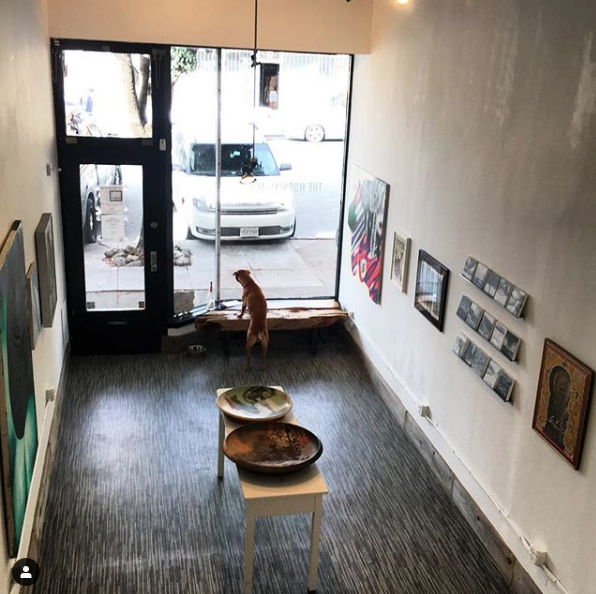 Curator's Statement
This exhibition will reflect on what happens when there is an ominous moment of change and a new reality (which replaces your old assumptions and beliefs) begins to take form. The Morning After will focus on that moment of recalibration that happens just before action. http://www.leobersamina.net Instagram: @leob50
John Bucklin
A fourth generation San Franciscan, John Bucklin has been drawing and painting since he was three. Trained in the classical tradition at the Florence Academy of Art, he continued his studies in New York City, graduating with a BFA from the School of Visual Arts. His work has been shown in Miami, Los Angeles, New York and San Francisco. John expresses his artistic talents in other ways. Last May, "Rooster", his eight foot tall steel sculpture, was installed at City Hall in San Rafael, and "Daffodil", another steel sculpture, graced the Inverness Plant Park. Recently he has been working on a series of swimming pools, tennis courts and still lifes using wood as the theme. http://www.johnbucklin.com Instagram: @johnbuclin
Rebecca Latourette Connolly
Rebecca Latourette Connolly (b. 1993) is a New York-based abstract painter and graduate of Fine Art from Goldsmiths, University of London. Connolly's paintings inhabit a space in between figuration and abstraction. The product of an intrigue with the depth between visual perception and cognitive processing, these paintings articulate the disembodied aperceptions the artist experiences as a synaesthete. In synaesthesia one property of a stimulus (e.g., shape) induces a conscious experience of a secondary percept (e.g., colour.) The paintings construct an abstracted environment, negotiated and manipulated by an over-riding entity that takes on a bodily aesthetic– alluding to a classifiable materiality, while also eluding a definition as a singular object or subject. The composition seeks to create a microcosm wherein a tension is observed between the autonomous role of sensory modalities, their assumed function of identifying stimulus in the world, and the human compulsion to accurately place stimulus in a realm of constructed reality. http://www.rebeccalconnoly.com Instagram: @rl_connolly
Amy Wilson Faville
Amy Wilson Faville lives and works in Oakland. Her work has been featured in solo exhibitions at The Sonoma Museum of Visual Art, Rena Bransten Gallery, Recology San Francisco and SCOPE Miami, and can be found in the collections of the Achenbach Foundation for Graphic Arts, British Airways, and the Rene di Rosa Preserve. She has been part of group exhibitions at Southern Exposure Gallery, the San Jose Institute for Contemporary Art; RB Stevenson Gallery and the Bedford Gallery. Faville is a recipient of the 2012 Artist in Residence award at Recology San Francisco, and a 2007 Artadia Awardee. http://www.amy-wilson-faville.com
Jane Fisher
Jane Fisher has shown work in public since 1984. She is well known in the Bay Area and has exhibited her works throughout the United States. Jane Fisher received her BFA from Ohio University and received a Master of Fine Arts degree from The Art Institute of Chicago. She paints ordinary, identifiable people in familiar settings – individuals rather than ideals – and familiar though not necessarily family, with subject matter ranging from divers in mid-air to models at an auto expo. – Adam Beck, askART. http://www.janefisher.net Instagram: @janefisher1608
Terry Hoff
Hoff's work has been described as, "abstract with hints of bright colors" and is inspired by his youth spent immersed in California suburban culture. Terry Hoff was born in Prescott, Arizona. He attended school at San Joaquin Delta College in Stockton, California, and the Academy of Art University in San Francisco, California, where he currently teaches. Terry lives seaside in Pacifica, California. www.terryhoff.com Instagram: @terry_hoff
Karl McDade
Born in 1971, in Portland, Oregon, Karl received a bachelor's degree in Business Administration from Southern Oregon State College in 1993 and completed his MFA at Montana State University in 1997. Between 1997 and 2000, Karl worked as the studio technician and a part-time instructor at the Kansas City Art Institute. In 2000, Diablo Valley College (Pleasant Hill, California) hired Karl as a full time ceramics instructor. Karl earned tenure in 2004, and continues to teach at DVC while maintaining a studio in Berkeley. http://www.karlmcdade.com
Jessica Snow
Jessica Snow is a San Francisco-based artist whose abstract paintings and drawings are characterized by playful geometric shapes and patterns. Jessica's international exhibition record includes museums such as Sonoma Valley Museum of Art, Crocker Art Museum, Riverside Art Museum, UCSD Art Museum, Monterey Museum of Art, Waterland Museum, Indianapolis Museum of Contemporary Art, University of Southern Queensland and the US Embassy in Montevideo. She has had solo exhibitions at several galleries, including Jen Bekman Gallery in NYC and Galleri Urbane in Dallas. When not in her studio, she teaches painting, drawing and art appreciation at University of San Francisco and Qingdao University in China. Jessica received her BA from UCDavis, her MFA from Mills College, and she also attended the Sorbonne and the Skowhegan School of Painting and Sculpture. http://www.jessicasnowart.com Instagram: @jessnow01
Travis Somerville
Travis Somerville was born in 1963 in Atlanta, GA. Growing up in towns throughout the southern United States and along the eastern sea board, he briefly studied at Maryland Institute College of Art, Baltimore, MD, finally settling in San Francisco where he attended the San Francisco Art Institute, CA. His large scale oil paintings on paper mounted to canvas incorporate collage and present images of political and cultural icons associated with the history of the south. His work explores the complexities of racism and serves as a point of departure for discussion about US oppression and colonial attitudes abroad. Somerville's work has been included in numerous museum exhibitions: The University of Georgia, Athens, GA; University of Houston at Clearlake, Houston, TX; de Saisset Museum, Santa Clara University, CA; Florida A&M University, Tallahasee, FL; Laguna Art Museum, Laguna Beach, CA; Charles Wright Museum, Detroit, MI; The Bass Museum, Miami Beach, FL; Frederick Weisman Art Museum, Minneapolis, MN; Smithsonian Institution, Washington, DC; The Brooks Museum of Art, Memphis, TN; Montgomery Museum of Fine Arts, Montgomery, AL; and Los Angeles County Museum of Art, CA. http://www.travissomerville.com Instagram: @travissomerville
Judy Starbuck Sorro
Activist 1941- present.
Marie Van Elder
Van Elder was born in Brussels, Belgium. She graduated from Universite Catholique de Louvain, Belgium and received her MFA in Painting in 2003 from California College of the Arts, San Francisco. Van Elder's work has been exhibited in California (San Jose ICA, SF MOMA Artists Gallery, Oakland Art Gallery, Berkeley Art Center, Marin MOCA, Headlands CFA, etc…), New York, Utah, and Tokyo. She was recently included in the national exhibition RTBF/Canvas, La Collection at the Palais des Beaux Arts in Brussels and featured in New American Paintings and Studio Visit magazine. http://www.marievanelder.net instagram: @mvanelder
Nicole White
Nicole White is an Oakland-based artist, curator, historian, and writer. Currently, she is an Assistant Professor of Photography at Diablo Valley College in Pleasant Hill, CA. Recent exhibitions include: Fluid Method, curated by Julie Weber, The Observatory, Chicago, IL (2016), Immediate Experience, Contemporary Art Center, Peoria, IL (2015), Mutual Ruins, Heaven Gallery, Chicago, IL (2014), High Tide, Dossier Outpost, New York, NY (2014), and Process of Subtraction, Chicago Art Department, Chicago, IL (2013). http://www.nicolewhite.net Instagram: @othernicolewhite