The Stampede
Margaret Timbrell
Reception Sunday, September 12th 2-5pm
September 12th – October 10th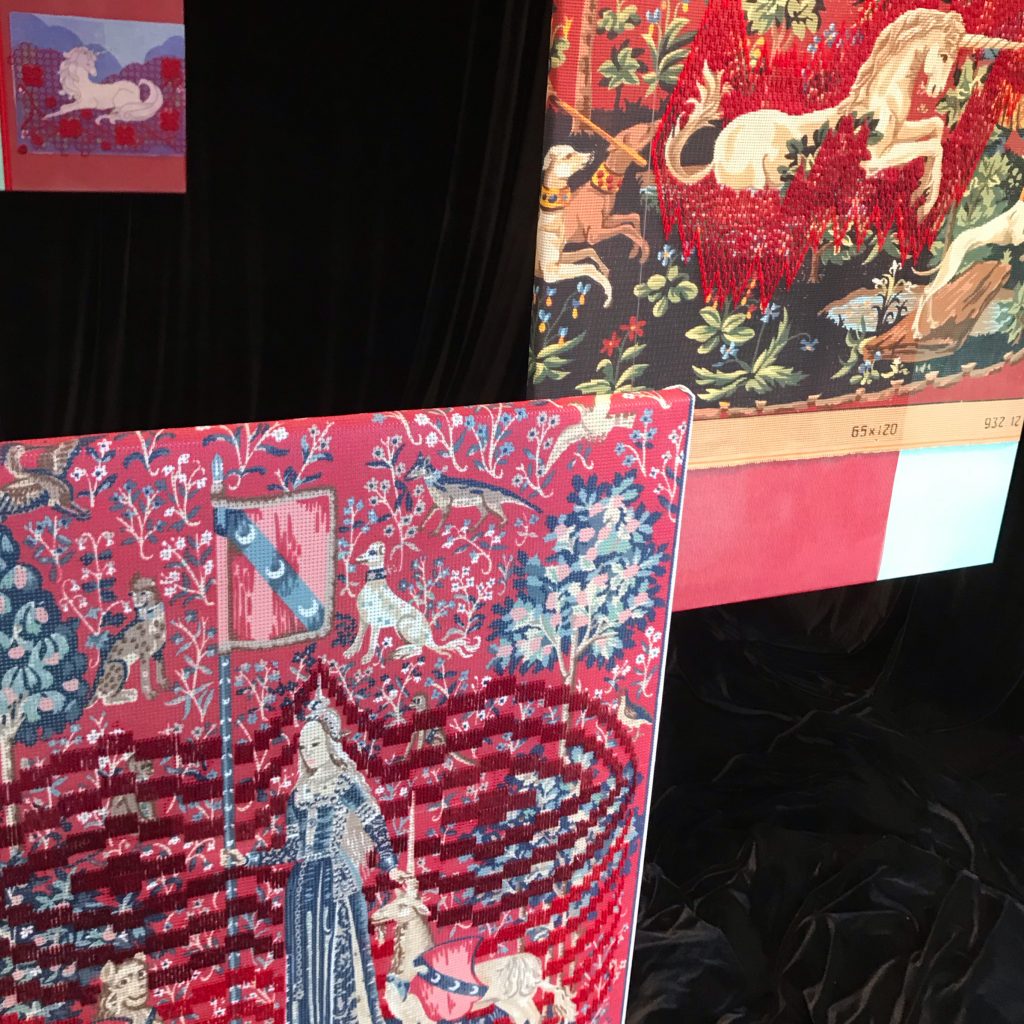 The Great Highway Gallery is excited to present The Stampede a window installation by San Francisco artist Margaret Timbrell.
Exhibition Statement
Upon graduation from NYU I entered a photography based art career. However, after a very bad accident, I could no longer work in the darkroom so I began needlepointing. This practice soon expanded to other fields of technically advanced needlework, including embroidery, cross stitch, as well as needlepoint.
I consider myself a conceptual needlework artist who uses the craft to reflect vulnerability, failure, and perseverance. An overarching source of inspiration with my work is the influence of the external.
In the middle ages the Unicorn was universally believed to exist. This made me wonder, what in contemporary times do we believe that is not real?
My visual and technical inspiration for creating The Unicorn series draws from two sources: The Hunt of the Unicorn (a seven panel series of medieval tapestries that now hang at the Cloisters) and The Lady and the Unicorn (a six panel series of French medieval tapestries that hang in Musee de Cluny). The Unicorn tapestries of both the Cloisters and the Cluny appealed to me because of the magic of the unicorns and that both these narrative pieces of history have survived all this time. I then sourced vintage needlepoint canvases from eBay and used a variety of stitches in Bargello, Redwork, and Blackwork needlework techniques to unify the work and highlight important elements.
About the Artist
Margaret Timbrell is a conceptual needlework artist with a multi-disciplinary degree from NYU. Her work is inspired by various influences (such as technology, parenthood, perseverance and failure) that alter language and engagement. Timbrell has exhibited at the De Young Museum, San Jose Museum of Quilts & Textiles, Eleanor Harwood Gallery, Marin Museum of Contemporary Art and other galleries. She was featured in the SF Examiner, LA Times, Bust Magazine. In 2012 she was selected as a Heart Artist for SF General's annual fundraiser. From 2015 to 2017 Timbrell participated in the StARTup Fair. She participated in Lenka Clayton's Artist Residency in Motherhood and, in 2018, Timbrell was the Artist in Residence at the San Jose Museum of Quilts & Textiles. Currently Timbrell is a Facility Artist at 1240 Minnesota Street Project, and Studio Artist at Pacific Felt Factory. In Fall of 2019 she completed a 15' latch hook portrait of Minnie Pearl for the Graduate Hotel in Nashville.
Artist Links
instagram – @margaretdth
web – www.margarettimbrell.com