Unsafe at Any Speed
The Great Highway Gallery is pleased to present Unsafe at Any Speed. Installation and photography.
August 3rd – September 9th
Reception Saturday, August 5th 6-9pm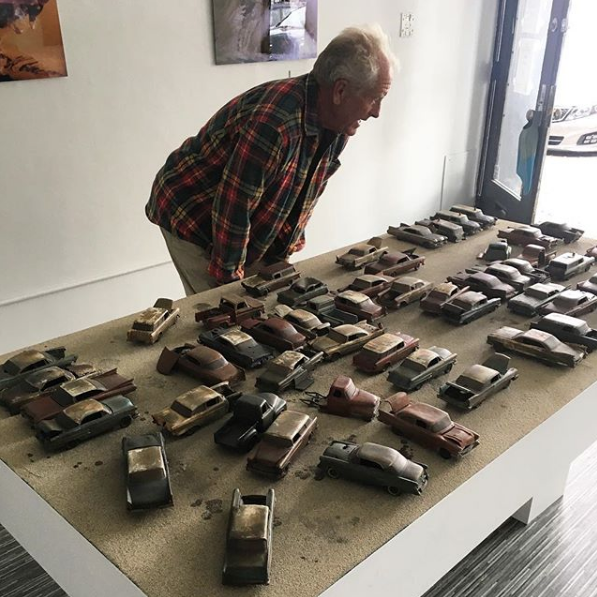 About Steve Davis
Steve Davis grew up and went to college in Charleston, South Carolina and currently resides in San Jose, California. Davis received his MFA from San Jose State University where he runs the metal arts facility for the Department of Art and Art History. Davis also teaches sculpture and small metals at various colleges around the South Bay. In addition to teaching, Davis maintains a prolific art practice. He is currently part of an artist team tasked with the production of a 20, life size figure sculptures for the Guadeloupe River Park and Conservancy in San Jose. His work varies from representational and figurative, to formal and abstract. Though a lot of his work is metal, Davis uses various media as needed to compliment the content of his work. His work is often commentary on social, political, and emotional aspects of society and the human condition.http://www.stevedavisart.com instagram @goofyfoot9196
Artist Statement
What is it about old cars that make our nostalgic fantasies go into overdrive? It can be argued that new cars are simply better. New cars are safer, more ecologically and financially efficient, and have greater longevity. But still, there is something about those old cars that rouses the sense of a way we once were. There is something about those endless lines of chrome glistening over two toned paint and the loping rumble of a big block V8 that makes it easy to imagine sitting at the drive in with your sweetheart or driving down a desert highway with the wind blowing through your hair listening to Dion on the radio. There is an ideology hidden in our nostalgia for old cars. This ideology is the notion of American greatness. With this nostalgia comes thoughts of American technological, economic, and industrial might, as well as a sense of social order and patriotism. America of the 1950s is often thought of as the country at its most economically viable, most innovative, and most patriotic. Often forgotten in these reminiscent thoughts are some of the darker parts of American History. The 50s were also a time of segregation, vast gender inequality and prescribed rolls, McCarthyism, as well as little to no ecological conservation concern or practices. This underbelly of Americana is often forgotten when gazing upon the towering fins and the flashy grills that exemplify the cars of this time.
About Spencer Mack
Born Spencer Maynard Mack in Cambridge, Massachusetts, May 31st,1971. Spencer grew up in Takoma Park, Maryland. His early inclination to walk on railroad tracks and collect glass insulators strung along the abandoned telegraph lines would provide excellent shapes from which to develop basic drawing skills. The importance he places on the the play of water and light in his work evolved from a lifetime of summers spent at Watchic Pond in Maine. There the straight lines of houses and other man made things appeared to him to stand out from nature. http://spencermack.com instagram @spencermack @amagicstory
Artist Statement
My work has long dealt with exploring the relationship of two colliding waves of energy. Be they solid against liquid or solid against fire, it is the initial impact of these bodies that is examined. Not unlike the way one's perception of time slows during traumatic events; the study of the moments of grace preceding certain destruction are the pistons rotating the cam of my work. The focus of study revolves around the moment when relationships between time and scale seem to bend perception in their precarious union.
About the Gallery
The Great Highway is a fine art gallery located in San Francisco's Outer Sunset district. The gallery was founded by John Lindsey, a long time resident of the city with a deep appreciation for images and ideas that explore the intersection of land and water in contemporary work. The Great Highway Gallery's mission is to seek, analyze, support, and promote the work of a diverse group of artists who seek sincere authenticity, challenge conventional thinking, amuse us, and push the boundaries of today's creative media. To learn more about the gallery, visit www.thegreathighway.com and on instagram @thegreathighway.
The Great Highway
3649 Lawton St
San Francisco, CA 94122
Contact: John Lindsey
info@thegreathighway.com
+1(415) 680-3891
Unsafe at Any Speed
Steve Davis & Spencer Mack