What is Shakespeare in a time of climate change?
August 16th – September 7th, 2019
Reception Saturday, August 17th 6-9 pm
The Great Highway Gallery is excited to present "What is Shakespeare in a time of climate change?". Installation and photography by Marfeco and Josh Edwards.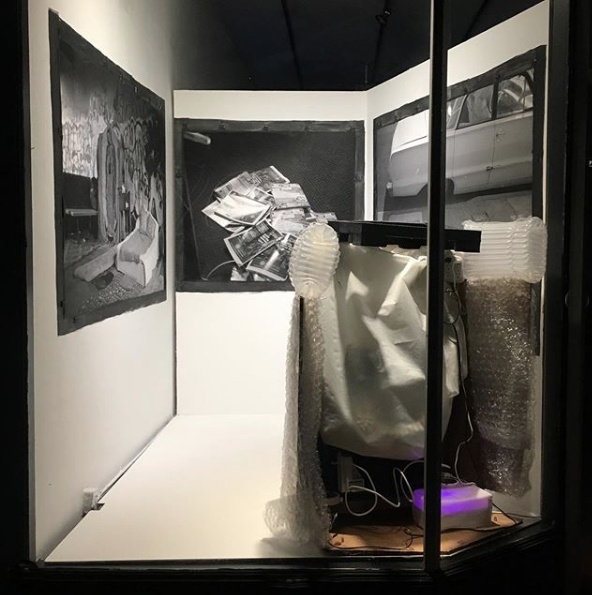 Artist Statement
What is shakespeare in a time of climate change is a question posed by Mary Ellen Hannibal (The Spine of the Continent, Citizen Scientist). It refers not to William Shakespeare, the writer, but all human artistic production and asks the question 'who are we?' The human species has always altered its environment. We've got trash bins. Will we now clean up our emissions? I'm exploring a solution that removes CO2 from the air as a real project and as an idea.
About the Artists
Marfeco is the art practice of Mary Fernando Conrad b. 1961
As important as my global perspective, as gained by living abroad as a child and as an adult, is my perspective as a parent and a mother. My mother was a school teacher and my father was a civil engineer enamored of math and science. As an attempt to appease both the science I was reared with, and the art which is my earliest memory, I went to architecture school (GSAPP, Columbia University 1990). Previous solo shows include Immaterial (Ictus Gallery 2011), Lapidary Terrarium (Michael Rosenthal Gallery 2009) and Sell Your Stories Here (509 Ellis, 2007). I live and work in San Francisco.
Josh Edwards grew up surfing and skateboarding in San Clemente, CA, before moving to San Francisco in 2016 to focus on his artistic development. Since then, he has studied under the guidance of his instructors at CCSF and friends, but has no degree or "formal" training. As a result, his work stems from the tension of surviving in an increasingly institutionalized world and an highlights his admiration of the working class. Josh has shown work around the city, most recently in 10 x 10 at RVCA (2019).