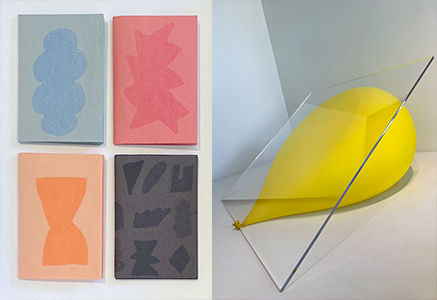 The Great Highway Gallery is excited to present "Pressing Time". Installation and zines by Natasha Loewy.
Artist's Statement
A large yellow balloon slowly deflates under a fifty pound piece of clear plexiglass. The weight of the plexi both stabilize and squish the balloon. Seen through a window in the Outer Sunset neighborhood of San Francisco, viewers may notice subtle shifts in form throughout the duration of the exhibit.
Inside of the space, there are three shelves with zines made of sun exposed drawings on construction paper. The zines, titled "coffee table books," priced at a sliding scale of $0-10, are meant to be taken home by viewers. Instead of purporting to be archival, these books admittedly fade and show wear. They invite viewers to witness change over time as a subtle reminder that everything is temporary.
Pressing Time alludes to the physical act of pressing something and to a copy or book press. Both the larger piece in the window and the more intimate zines inside use time and elements such as sunshine and changing temperatures as materials in the artworks themselves. Through a language that accepts instability and the possibility of failure, the works in this exhibition express emotional weight, temporality, joy, and humor.
About the Artist
Natasha Loewy (she/her) lives and works in Oakland, California. She received a BFA from The San Francisco Art Institute in 2008, a Single Subject Teaching Credential in Art from Mills College in 2012, and an MFA in Art Practice from San Francisco State University in 2022. Drawing from personal accounts of family trauma and a shared socio-political climate, she creates works that use tension and fragility to explore the relationships between anxiety, humor, and healing. Loewy has exhibited locally at galleries such as SOMArts, Root Division, and Hit SF. She has taught art in elementary, middle, and high schools, as well as within youth art programs throughout the Bay Area. She is one of three members of MUZ, a Bay Area based art collective focused on a collaborative studio and curatorial practice.
Artist Links
natashaloewy.com
@natashaloewy