Jenifer K Wofford
October 17th – November 28th
Reception Saturday, October 23rd 6 – 9pm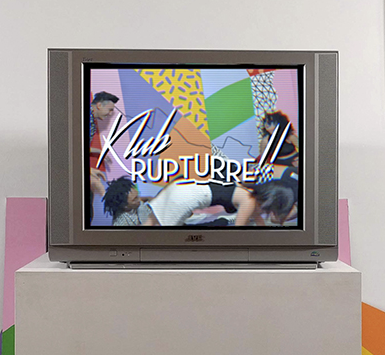 The Great Highway Gallery is thrilled to present Rupturre Reduxx, a window installation and paintings by San Francisco artist Jenifer K Wofford.
Exhibition Statement
October 17, 1989 at 5:04 was a moment of profound rupture in the Bay Area. The Loma Prieta earthquake that day reshaped much of the culture and landscape on a local scale during a year of upheaval on a global scale, from Tiananmen Square to the fall of the Berlin Wall.
Rupturre Redux is the latest incarnation of artist Jenifer K Wofford's keen interest in retracing what broke in 1989, and what has been rebuilt in its place. Working in an aesthetic loosely inspired by the design palette of that era, Wofford investigates a broader array of dates and sites of calamity and collapse, both public and personal.
The window display presents Wofford's 2019 video, Klub Rupturre!! in a new immersive installation. The video, taking the form of a 1989 regional TV Dance Party, shows a creepy television hostess and dancers presenting each song on a top ten countdown leading up to the moment of the Loma Prieta earthquake. Inside the gallery, Wofford presents a selection of works on paper from her ongoing Rupturre series.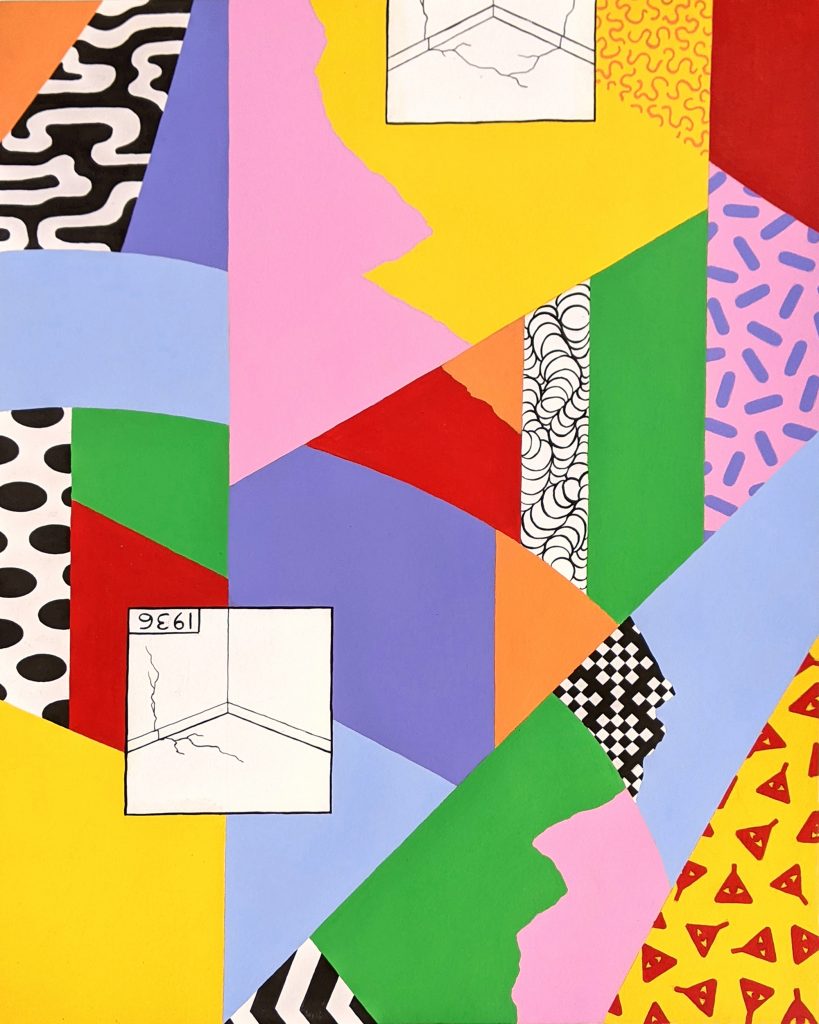 About the Artist
Jenifer K Wofford is a San Francisco-based artist and educator whose work investigates hybridity, history, calamity and global culture, often with a humorous bent. She is also 1/3 of the Filipina-American artist trio M.O.B.
Her work has been exhibited in the Bay Area at the Asian Art Museum, Berkeley Art Museum, Oakland Museum of California, YBCA, San Jose Museum of Art, Southern Exposure, and Kearny Street Workshop. Further afield, she has shown at New Image Art (Los Angeles), Wing Luke Museum (Seattle), DePaul Museum (Chicago), Silverlens Galleries (Philippines), VWFA (Malaysia), and Osage Gallery (Hong Kong).
Wofford is a 2017 recipient of the Joan Mitchell Foundation Painters and Sculptors Grant. Her other awards include the Eureka Fellowship, the Murphy Fellowship, and grants from the San Francisco Arts Commission, the Art Matters Foundation, and the Center for Cultural Innovation. She has also been artist-in-residence at The Living Room (Philippines), Liguria Study Center (Italy) and KinoKino (Norway).
A well-known arts educator, Wofford is part-time faculty in Fine Arts and Philippine Studies at the University of San Francisco. She has also taught at UC Berkeley, Mills College, the San Francisco Art Institute, California College of the Arts and San Francisco State University. She holds degrees from the San Francisco Art Institute (BFA) and UC Berkeley (MFA).
Born in San Francisco and raised in Hong Kong, Dubai, Malaysia and the California Bay Area, Wofford has also lived in Oakland and Prague. She lives and works in San Francisco.

Artist Links
instagram – @woffsilog
web – wofflehouse.com