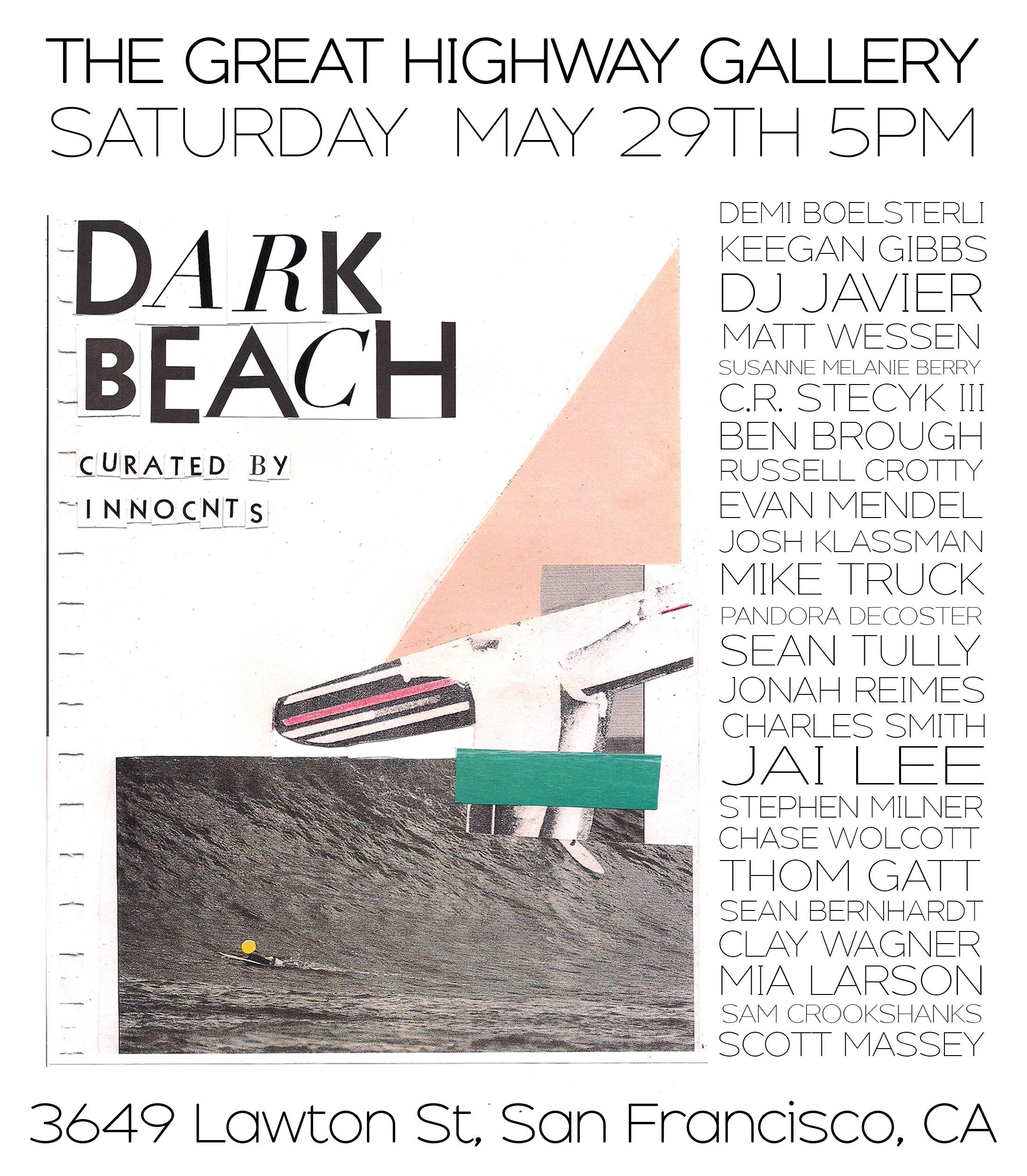 Saturday May 29th 5:00pm
Dark Beach exhibition statement:
Inspired by more dramatic elements within surf culture, Dark Beach is an exploration of themes, individuals, and emotions that exude grittier qualities of aesthetic within the scope of contemporary surf art. Looking beyond the waves for more than just visceral beauty or physical release, we find the genuine perspectives of individuals, whose artistic sensibilities have been shaped by their experiences in the water and along the coast. As surfers, we have witnessed both the beauty and the reality of riding waves in modern society and the stark differences between the two present an area rich with creative potential. Curated by Los Angeles based surf entity Innocnts, Dark Beach offers viewpoints of a culture whose authenticity is most accurately reflected by those endeavoring to survive within it and gives equal weight to an alternative perspective within the realm of surf-related art exhibitions, where the surfing lifestyle is often presented as existing outside the realities of everyday life.
About INNOCNTS:
INNOCNTS is a lifestyle-based project that manifests itself through various means including art curation, happenings, clothing, brand collaborations, and surf/skate related media. We are a mixed grouping of lesser knowns from various international environs attempting to carve out a genuine path of our own. Based in Los Angeles, INNOCNTS started as an brick-and-mortar art gallery in the Los Angeles and has gradually grown into a larger movement of friends and like minded individuals. INNOCNTS has strong connections to the art, surf, and skate communities and continues to present authentic projects and persons doing things their own way.
visit Innocnts website
Demi Boelsterli
Keegan Gibbs
DJ Javier
Matt Wessen
Susanne Melanie Berry
C.R. Stecyk III
Ben Brough
Russek Crotty
Evan Mendel
Josh Klassman
Mike Truck
Pandora Decoster

Sean Tully
Jonah Reimes
Charles Smith
Jai Lee
Stephen Milner
Chase Wolcott
Thom Gatt
Sean Bernhardt
Clay Wagner
Mia Larson
Sam Crookshanks
Scott Massey