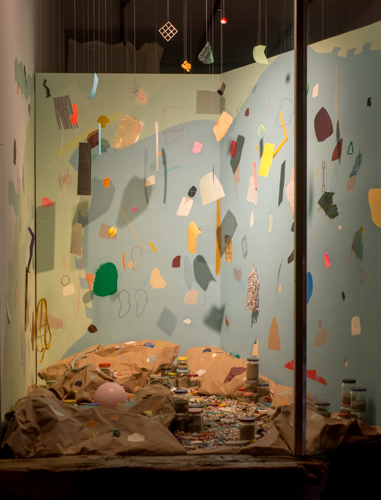 DYANNA DIMICK, lets material and her eco-friendly lifestyle drive her creative process.
An ecological consciousness lies close to the heart of California native Dyanna's art, which incorporates reused and found material. While studying sculpture at UC Santa Cruz, her interest in found medium grew.
Dyanna explores color + shape, material and texture to create a visual narrative. She presents a strong balance of chaos and order in her work. Focusing on ecology and the overload of today's consumerism culture. Our modern obsession with vanity occasionally sneaks into her work.
Dyanna endlessly collects pieces from her surroundings to use as material. This keeps her attuned to her environment. "Our eyes tune out thousands of objects around us because we don't have a current need for them or they don't seem   important to us." Dyanna curates these materials in an intuitive way, like puzzle pieces.
Conscious of the consumerism cycle, she'd rather find her materials. We live with pollution. We accept it and it becomes invisible. She uses the found material as part of her palette to mimic this.
Dyanna lives and works in San Francisco, CA.