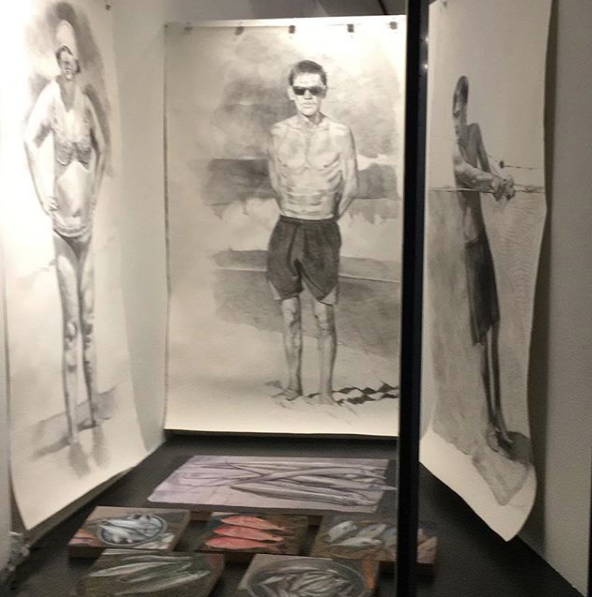 December 6th – January 9th
Reception Saturday, December 8th 6-9pm
The Great Highway Gallery is excited to present I'll Take You There, paintings and drawings by Jane Fisher.
Artist Statement
War is God's way of teaching Americans geography"-Ambrose Bierce I am part of a generation of Americans born never not knowing of Vietnam. The on-going conflict there was as much a part of my childhood as Captain Kangaroo, Gumby, and The Monkees. The nightly body counts, the scenes of destruction on the evening news, and our parents' expressions of anguish over such a pointless war was part of our daily routine.
I'll Take You There features work based on my travels in Vietnam, primarily the coastal town of Nha Trang. In recent years it has evolved into a premiere Russian tourist destination, a place where thousands flock all year around. The town has become a dialog between these two cultures. The signage is mainly in Vietnamese and Russian, with only the occasional bit of English. Russian visitors lounge on the beach, working diligently to achieve their perfect sunburns, breaking only occasionally to chase down a souvenir hat or some sunglasses. Meanwhile the locals go about the business of living their lives.
To an American, Nha Trang can seem like a parallel universe, a Twighlight-Zone-esque tableau. One of the dominoes fell! They defeated us in war, and now they play host to other Godless Communists as they cavort on the beaches! Fifty years ago, one would have been hard pressed to imagine such a scenario. And yet, here we are. The reality is both more mundane and more pleasant. This Marxist dystopia includes lovely beaches, superb food, and many kind people. And in a strange plot twist, the Russians have become the Ugly Americans, rarely engaging with local culture, too absorbed in their own temporary escape. The juxtaposition of these two cultures meeting on a beach, as seen by an American, is the focus of this show.
Jane fisher is a figurative artist who has been exhibiting work in the bay area and nationally since the 1980s. Jane received her BFA from Ohio University and received a Master of Fine Arts degree from The Art Institute of Chicago. She lives in Oakland and is a Professor of Art at Diablo Valley College in Pleasant Hill.
Artist Linkswebsite http://janefisher.net instagram @janefisher1608