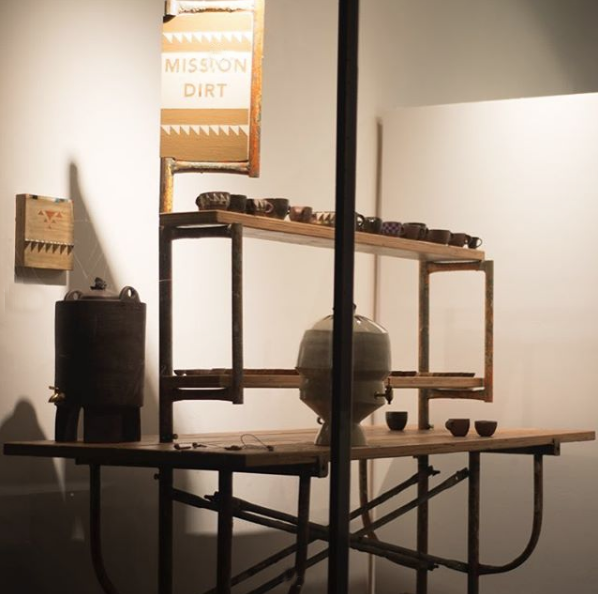 October 1st ~ November 3rd
Reception Saturday, October 6th 6~9pm
Artist talk Thursday, November 1st 6~8pm
The Great Highway Gallery is excited to present Mission Dirt Project, installation, ceramics and drawings by Ilana Crispi.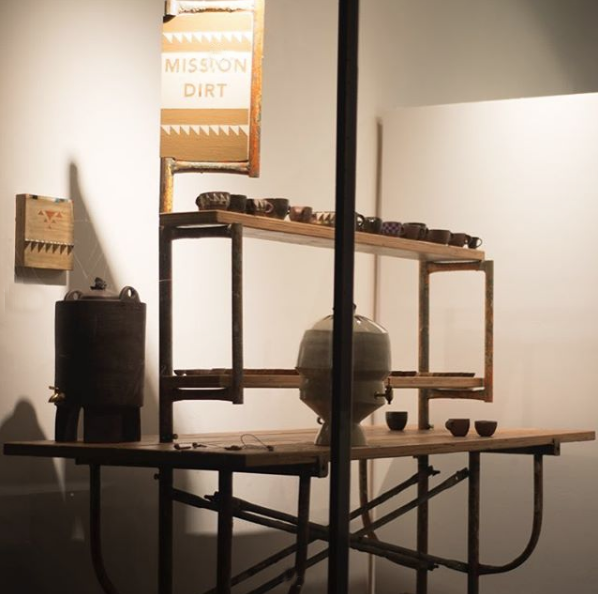 About the Project
I am digging the dirt under my apartment in the Mission, turning it into ceramics, searching for deposits of gold and using it to grow tea to share with my neighbors. I am looking at the soil itself as a way to examine our local history, geology, and story of place.
Mission Creek – now buried – has deposited soil with a high clay content under my home. I investigate landscape – how we imagine and perceive our environment, and the physical material of place. What happens on the surface is constantly changing. Many different peoples have created homes here – the Ohlone and then missionaries and immigrants and now tech workers. My apartment has been here since before the 1906 earthquake. The dirt under the apartment hasn't changed. To reach it I travel into what looks like an old mine shaft below the sidewalk. This is where the fuse boxes are. I have navigated this space with pick ax and shovel and mined the soil.
This is a kind of guerrilla land grab and share – I am looking at the value of the dirt itself and sharing what I find. The real estate here is some of the most expensive anywhere. I have processed the soil to create fired ceramics and grow native plants. I am testing the land – firing it, mixing it and questioning its meaning and ownership.
The Mission Dirt Project is supported by an Individual Artist Grant from the San Francisco Arts Commission.
About the Artist
Ilana Crispi is a San Francisco based artist with an interdisciplinary practice. She mixes traditional ceramic arts with local histories and geologies, food, dirt, and junk materials. Her site-specific installations invite engagement and investigate ideas of perception and the ways in which we experience our environments. She has been the resident artist at the Rochester Folk Art Guild, Montalvo Arts Center, the de Young Museum, and Jiwar and Can Serrat in Spain. Her work has been shown at museums, galleries, and alternative sites nationally and internationally in Spain, Mexico and China. She has an MFA from Mills College and BA from Brown University. Ilana is an Assistant Professor of Art at San Francisco State University.