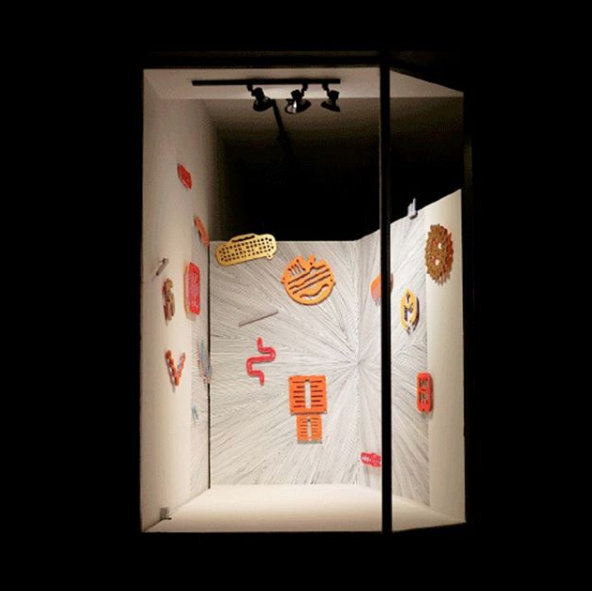 Mel Prest & Andrew Kleindolph
July 16th – August 16th 2020
Price List – Click Here PDF download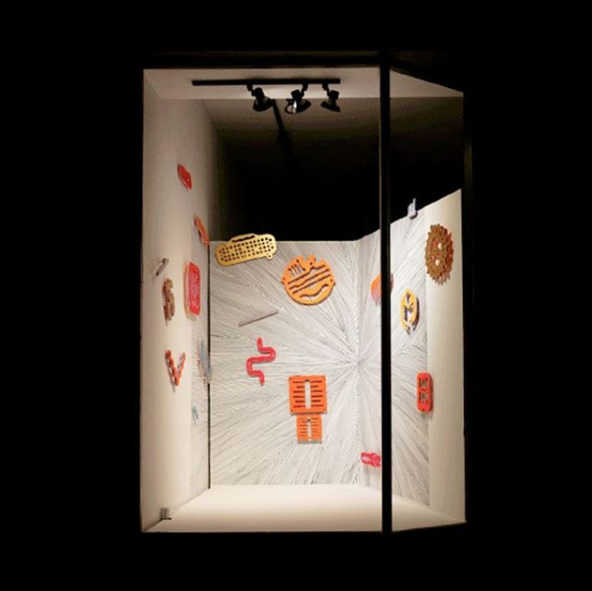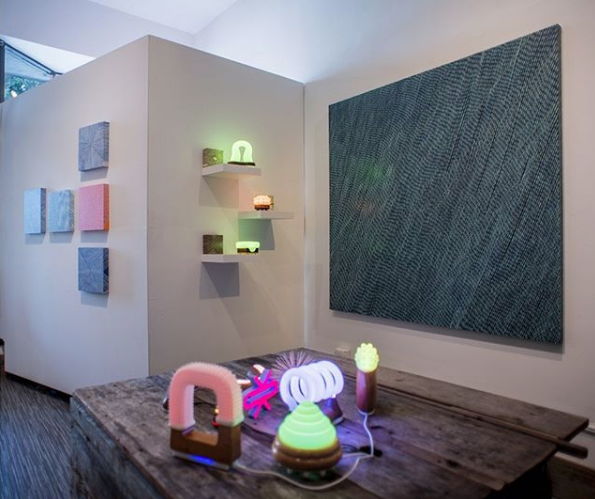 Artist Statement
After 20 years of discussions, we are excited and grateful to install our first significant art collaboration, "Restructuring in Progress." This exhibit unites Mel's color and line painting installations with Andrew's 3D machine-made and hand-finished sculptural work. The wall drawing was made by hand, finding irregularity and warmth in hand-drawn lines. The CNC cut wood shapes are abstractions everyday objects with fluorescent auras, floating over the wall. The lines and colors we used relate to the static and luminescence of screens, the vibrance of energy and community as we've experienced it, and how this has permeated each day since the quarantine began.

Our initial experiments for the Great Highway's window were inspired by the local air, architecture, colors, and the ocean. As this year has progressed, our influences have shifted to the excitement and movements to defund the police and dismantle white supremacy. As a way to support the call for change and justice, 25% of any sales will be donated to the Bay Area SURJ (Showing Up for Racial Justice) chapter, part of a national organization whose "role as part of a multi-racial movement is to undermine white support for white supremacy and to help build a racially just society."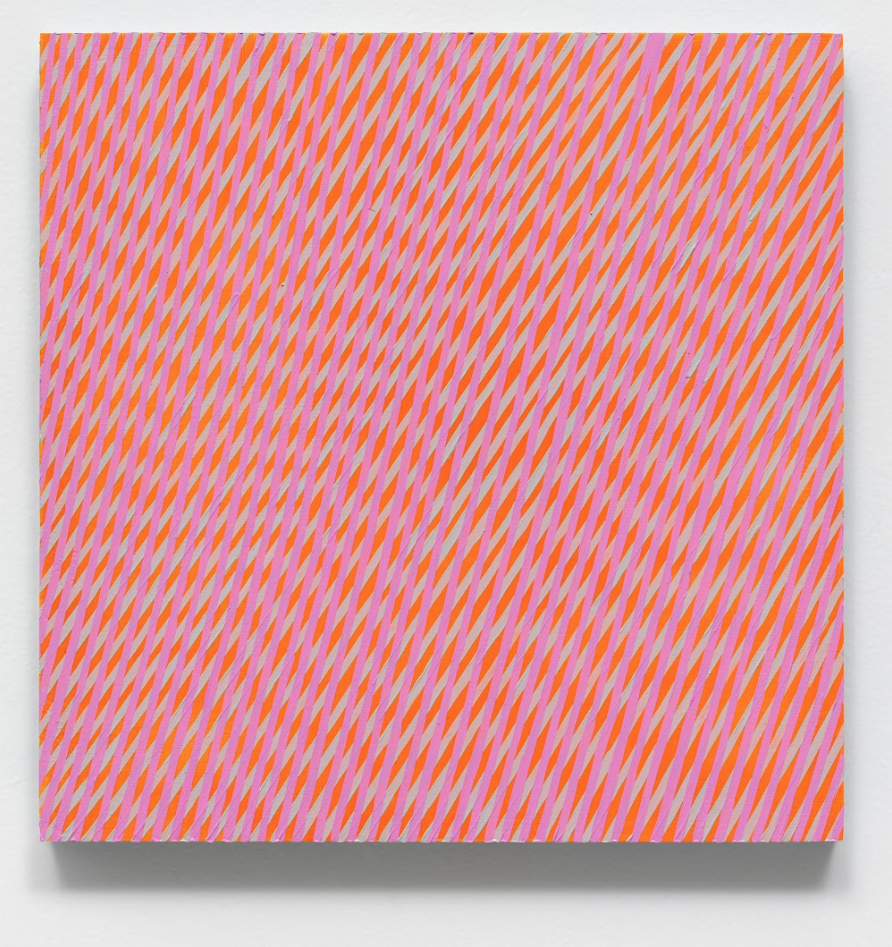 Mel Prest
Mel Prest is an American abstract artist whose intricate, layered paintings mobilize color, line, and perspective to activate kinetic perceptual phenomena. She lives and works in San Francisco, CA. Prest's work has been exhibited internationally including: The Drawing Center, New York; The Weatherspoon Museum of Art, Durham, NC; IS Projects, Leiden, The Netherlands; McKenzie Fine Art, New York; Saturation Point, London, UK; Nakaochiai Gallery, Tokyo. Prest has been awarded residencies at: Ragdale, The Sam and Adele Golden Artist Foundation (2012 and 2018), Willapa Bay AiR, (2014 and 2021) The Wassaic Project, The MH deYoung Museum, Vermont Studio Center. Her work is held in collections at Apple; The Berkeley Art Museum, The Crocker Museum of Art; Kaiser Permanente; Marin General Hospital, The Mills College Art Museum, among others.
As an independent curator, Prest has organized shows in Berkeley, Los Angeles, San Francisco, New York, Rotterdam, Amsterdam, Berlin, Munich and Zagreb. She served on the advisory board of The Art Monastery Project from 2007-2010 and is a founding member of Transmitter, a collaborative curatorial gallery initiative in Bushwick, Brooklyn, New York. Prest is currently an advisory board member of Root Division, a non-profit arts organization in San Francisco, an artist advisory board member of Trestle Gallery in Sunset Park neighborhood of Brooklyn and has recently joined the board of SCRAP in San Francisco. A longtime adjunct arts instructor, she is now a program developer for City College of San Francisco Extension.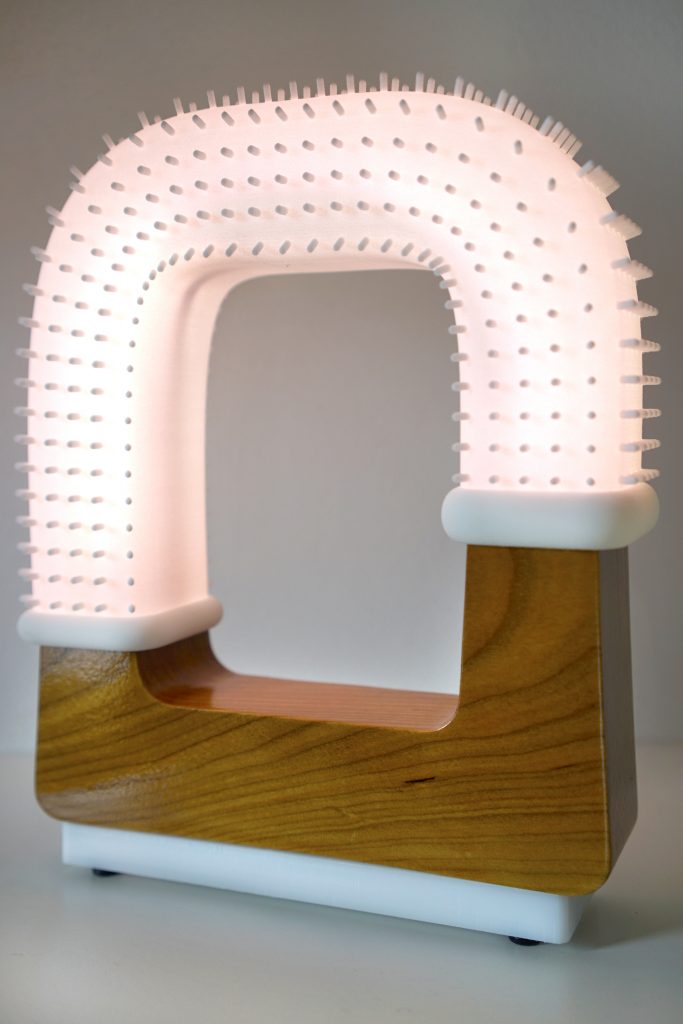 Andrew Kleindolph
Attracted to elements of sculpture, craft, and industrial design, my visual work varies from interactive electronic sculpture to digital drawing to functional objects. I look for ways to apply themes like inefficiently, malfunction, political or cultural data, spirituality, danger, and asymmetry to carefully-crafted electronic devices. I received my MFA from Mills College in Oakland and my BFA from the University of Iowa. I've participated in exhibitions at the Headlands Center for the Arts, Root Division, the Santa Clara Museum of Art, and the School For Poetic Computation in NYC. I was a recipient of a Creative Code Fellowship sponsored by Gray Area and Stamen in San Francisco. I was featured on KQED's SPARK, a local program highlighting artists in the Bay Area. In 2015, I published a graphic novel of short stories about travels in Senegal, Mali, and Ethiopia. In the summer of 2016, I was a resident at 72u in Los Angeles. In 2018 I was an Artist's Fellowship Awardee at the Eyeo Festival. Most recently I was interviewed on the Bantam Tools podcast: The Edge and participated in various art fairs in Seattle, Chicago, and Houston with San Francisco's Open-Editions.
I'm an electronics and object design instructor in the Technical Arts Department at Lick-Wilmerding High School where I developed the LWHS Electronics and Circuits program which includes courses: Analog and Digital Circuits, Device Invention, and Design and Technology. During my time at this institution, I've led the department in the integration of various digital fabrication processes and tools including 3D CAD rendering, CNC machining, and 3D printing. For 7 years I was one of the leaders of the LWHS Senegal Service-Learning Trip, which gives students an opportunity to apply building skills and participate in a cultural exchange while in a rural village. I'm committed to anti-racist educational practices that de-center whiteness. I'm a repeat attendee of the White Privilege Conference, a regular attendee of our school's "Interrupting White Supremacy" meetings, and creator of a workshop on machine learning and algorithmic bias for high school students.
About the Gallery
The Great Highway is a fine art gallery located in San Francisco's Outer Sunset district. The gallery was founded by John Lindsey, a long time resident of the city with a deep appreciation for images and ideas that explore the intersection of land and water in contemporary work. The Great Highway Gallery's mission is to seek, analyze, support, and promote the work of a diverse group of artists who seek sincerity, challenge conventional thinking, amuse us, and push the boundaries of today's creative media. To learn more about the gallery, visit www.thegreathighway.com.