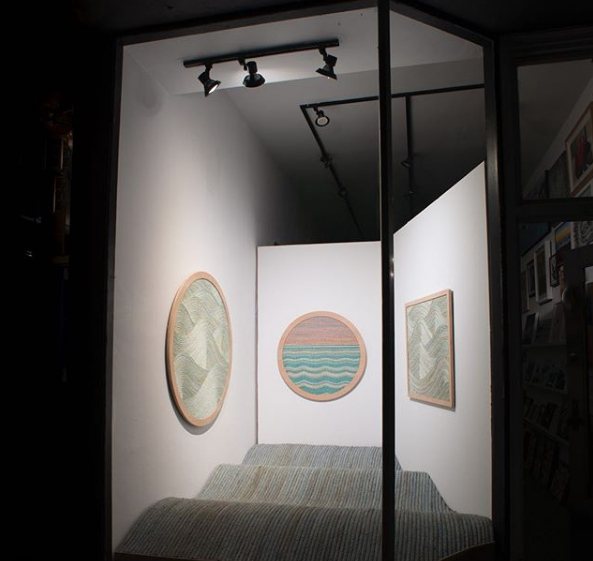 October 11th – November 17th 2019
Reception Saturday, October 12th 3-9pm
The Great Highway Gallery is stoked to present "Out of Mind". Installation and ropework art made from crab and lobster pot rope by Ethan Estess. During the reception "Fore the Waves" will be parked in front of the gallery. An interactive sculpture made from twenty thousand golf balls that Alex Weber started removing from the waters off Pebble Beach when she was 16.
Artist's Statement
I'm interested in the blind spots we can have with respect to ocean health, and I see art as a powerful conversation starter that can help us open our eyes and connect to complex challenges. For example, people tend to talk about sustainable seafood solely in terms of fish population levels, but rarely do we consider how certain fisheries contribute massively to the issue of marine plastic pollution. More dangerous and abundant (by weight) than single-use straws and plastic bottles, derelict fishing gear can entangle and kill a wide range of marine species. For these reasons I have been working to reclaim old fishing rope directly from fishermen and picking it up off beaches to highlight this challenge through my artwork. My hope is that increased consumer awareness on this issue will encourage fisheries to adopt better materials and practices to reduce their plastic pollution footprint.
As another example, I recently found myself in the dark in regards to an environmental issue in my own backyard. It had never occurred to me that golf balls could cause harm to the marine environment, that is until I received an email from a teenager who had spent three years picking 50,000 of them up off the seafloor near Pebble Beach. She had published a research paper documenting how 2-5 million balls remained buried in the sediment off the Carmel coast, seasonally getting ripped up by winter swells to tumble along the sandy bottom and erode into potentially toxic microplastic particles. Golf balls are just one of the many forms of plastic that sink in seawater, so I took the artistic opportunity to envision what the shore break at Carmel would look like if they happened to float. Fore the Waves is made from over 20,000 of these golf balls and is intended to inspire individual action and corporate responsibility to solve the broader plastic pollution crisis.
About the Artist
Ethan Estess (b. 1989) is an artist and marine scientist from Santa Cruz, California who communicates about the challenges facing the ocean through sculpture and printmaking. He travels extensively for his work as a marine biologist and draws on these experiences to inspire his creative works. He holds B.S and M.S. degrees in environmental science from Stanford University where he studied oceanography, mechanical engineering, and studio art.
Estess has participated in several art residencies, including the Recology program at the San Francisco landfill where he constructed a life-size whale tail sculpture from reclaimed rope that was later displayed for millions of viewers at the San Francisco international airport. His artworks are currently exhibited in public and private collections in the United States, Europe, and Japan, and he recently installed a temporary sculpture at the J. Paul Getty Museum.
Estess operates a studio and gallery while continuing to work with the Monterey Bay Aquarium studying bluefin tuna ecology and conservation. In 2016 Estess founded Countercurrent, a non-profit that engages communities in issues of ocean sustainability through science-based public art installations.
Artist Linkshttp://www.ethanestess.com
@ethan.estess.art.science